Useful resources to help Rotary clubs get their club members on board, attract youth exchange student applicants, and sponsor and host Rotary Youth Exchange students.
Getting clubs on board with youth exchange
Show your club members this video featuring PDG Andy Rajapakse and a number of rebound exchange students who are now Rotarians in D9640 as they share their stories of the life changing experience that is Rotary Youth Exchange, and how Rotary can benefit. Just say yes to Rotary Youth Exchange!
Helping you promote youth exchange
Are you planning to do a presentation at a local high school, or another local youth group?
Get in touch with the YEP Committee and we can supply you with all the resources you need including:
a PowerPoint presentation (which includes a copy of the promotional video below).
Posters.
Flyers.
Ads for digital or hard copy school newsletters.
We are also very happy to find either a YEP Committee member or a former exchange student to join you for the presentation if requested. Please contact the committee on RotaryYEP9640@gmail.com to discuss.
Resources to help you run Youth Exchange in your club
We have a number of resources available to help you run Rotary Youth exchange in your club.
For your Club Youth Exchange Officer (YEO) the most valuable resource for accessing student and host family information, reports, forms and documents is the

YEAH Portal

. You can log in to the portal here. If you are a YEO and don't have access please email yep@rotary9640.org.au

Within the YEO portal you will have access to the YEO Library which contains a range of documents that will assist you. See a snapshot of the library below: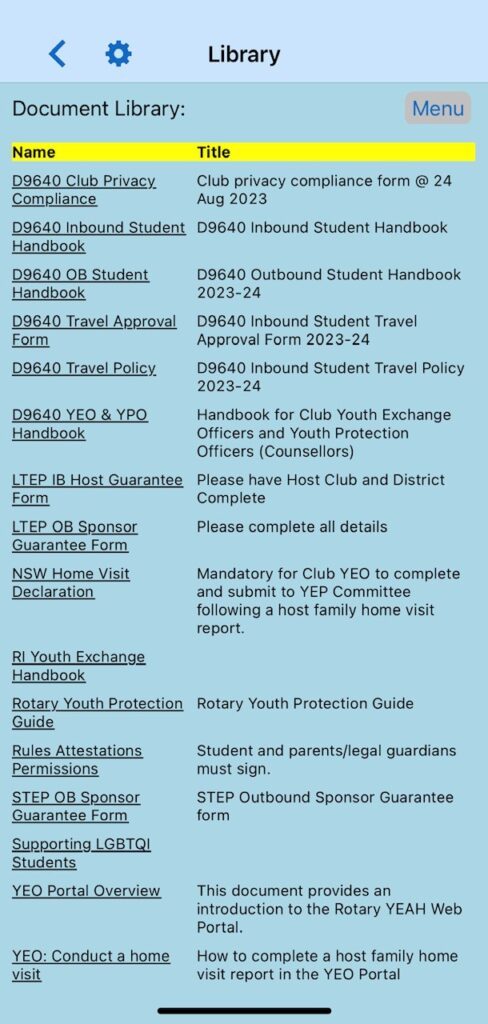 Your second most valuable resource is the D9640 Youth Exchange Officer & Youth Protection Officer (Counsellor) Handbook: Download here.

Rotary International Youth Exchange Handboo

k: Download here. This handbook explains how YEP is run at an international and district level and includes information for club officers on how to run youth exchange in your club.
Guide on how to conduct a host family home visit in the YEO Portal: Download here.
Forms:
Volunteer Application form: this is required to be completed by all Club Presidents, YEOs, YPOs and any other club member who will have a regular interaction with your inbound/outbound exchange students.
Host Family Application Form: this is required to be completed by all proposed host families of inbound exchange students.
Long Term Student Application form: if you have a local student who you know wants to apply for the long term youth exchange program, you can share with them the full application link to get their application started. They can submit this without completing the expression of interest form on this website.
Short Term Student Application form: as above, for short term program applicants.
Please also check the Host Family resources page and the Outbound Exchange Student and Inbound Exchange Student resources pages for other resources that might be of use.